So far this season has been like riding one of those crazy, twisting roller coasters.
After an ugly Week 3 loss in Detroit everyone was questioning if this was the end, just like they always do. I, myself even didn't feel great about this team and you know what? I still don't.
Yeah the Pats have won five straight games, including a win over the mighty Kansas City Chiefs, but it hasn't been a pretty stretch.
In that Chiefs win the New England defense still let up 40 points and pretty much let Tyreek Hill do whatever he wanted to them. In Chicago we saw the team make several mistakes and nearly let the Bears tie the game on a desperation, last second hail mary. Do I even need to talk about how putrid this past game was on Monday night against the Bills?
Yes, the defense played well but the opposing offense was a joke. I've seen better offenses while covering local high school football for the newspaper.
I have no idea what's going on with the offense. Brady has looked solid enough but he's made some dumb mistakes in a few of these games (that duck of a pass to Develin in the Bears game that was nearly picked). From Week 2 and on I've noticed that Gronk isn't himself and I don't even mean from a production/stats point of view. He doesn't look like the same big jolly guy that we always see dancing around and smiling, he looks border line miserable. Recently, some beat reporters have been noticing this but I just want to say I was one of the first to notice this.
Maybe it's just that the big man has become more mature or maybe he is hampered by some injury. I don't think it has anything to do with that business with Belichick from last season/offseason but who knows. Brady seems to be fine mentally, posting his Instagram videos weekly and smiling on the sideline, and he was in that same boat with Gronk and Belichick so who knows what the hell is going on.
Another thing with Gronk I've noticed is that he's rarely been targeted in the redzone at all this year. I believe I saw a stat that he's been targeted only twice through 8 games…that's ridiculous. What is going on with Gronk and this offense?!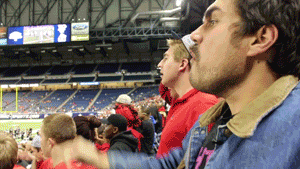 On the defensive side of the ball the team is a flat out mess.
I love Devin McCourty but he has been garbage recently, although that pick six the other night in Buffalo was unreal. Again, I love him and his twin, Jason, but boy have they been bad.
The only people I've been really happy with on this defense have been Trey Flowers, Stephon Gilmore, and Kyle Van Noy. Hightower played well in the Chiefs game but he's gotta be more consistent.
Flowers has been the MVP of the defense, Gilmore and Van Noy haven't been great but I liked the way they've been playing. Some may roll their eyes at Van Noy but the guy is a playmaker in that Vrabel/Ninkovich type of roll (he really sucks at coverage though..).
So let's take a look at the remainder of the season:
Week 9- vs Green Bay
Week 10- @ Tennessee 
Week 11- BYE WEEK
Week 12- @ Jets
Week 13- vs Minnesota 
Week 14- @ Miami
Week 15- @ Pittsburgh 
Week 16- vs Buffalo
Week 17- vs Jets
The next two weeks will be tough tests for the Pats but I see them AT LEAST splitting the two and heading into the bye week at 8-2 or 7-3,  a great record to have at that point. The Pats were able to handle Kansas City's offense a few weeks ago so I think they can deal with Rodgers and his offense.
Some may overlook the Titans but they've beaten the Jaguars (while they were still confident) and defending champion Eagles. They also came up just short to a good LA Chargers team. Will the Pats easily beat Mike Vrabel's Titans? Most likely but that could be a tough game down there with a lot of familiar faces on the other side of the ball (Vrabel, Malcolm Butler, Logan Ryan, Dion Lewis).
After the bye week the Pats should roll the Jets in New York but division games can be tough. Then the Vikings come to Foxboro and I could see that one going either way, just like the Chiefs game. I think Minnesota is a tougher matchup for the Pats than the Chiefs as the Vikings defense can be really good while the Chiefs are horrendous on D.
Going into Miami has always spelled trouble for the Pats. The Dolphins have won three of the last four matchups there and it's been a bit of a "house of horrors" for Belichick and Brady over the years.
Week 15 should be an interesting game as the Pats head into Pittsburgh. The Steelers haven't looked great at all this year but by then they could be a better team gearing up for the playoffs or they could be folding like a lawn chair. Either way they'll be looking to hand the Pats an L and it should be another great game.
To end the season the Pats will stomp the Bills and Jets at home to celebrate the holiday season and then comes the playoffs!
So I had a lot to complain about earlier in this blog but the offense is going to get better and the defense is like holes in a ship, just keep plugging them up and you'll be okay…for now.
By the time December rolls around I expect this team to be 12-4 with a first round bye. I don't think that'll be good enough to get the one seed in the AFC as I don't see the Chiefs losing three more games but who knows.
Can this team make it back to the Super Bowl?
At the start of the season I guaranteed the Pats would make it to the AFC Championship at least just like they always do. I'm standing firmly by that prediction and if the Patriots have to travel to Arrowhead to face off with the Chiefs again I don't feel great about it but you can never count Brady and Belichick out, right?
As thing stand right now I don't see this team beating the Chiefs on the road or even the Rams in the Super Bowl if it came to that. Both of those teams are lethal but like I said before, a lot will change from now till January. We'll talk more about playoffs then.
Go Pats